Site News :
---
04/17/2023 : Finger crossed for Starship / SuperHeavy : please do NOT blow up the pad ! Scrub! A frozen pressurizing valve, try again tomorrow !
09/08/2022 :

Your Majesty Queen Elizabeth II ;
Thank you for bringing to the world the smile, color, consistency, stability, reliability and playfulness that we needed.
Let's hope that spark of benevolence continues to shine in your absence.
Thank you.

07/26/2022 : The theme meteo : It is meteorology, but also weather forecasts, soil analysis (Spot image) the study of climate and climate change, but also Solar winds and atmospheric studies (balloons, satellites).
08/31/2021 : Mr. Etienne writing about the commemorative covers we create together :
"We continue to carry the tradition of creating, designing and producing philatelic materials that continue documenting man's continued exploration of space and technological advancement. I do agree it may not be very profitable, but historically we are leading the way for items that will be enjoyed and collected for generations to come."

12/31/2020 :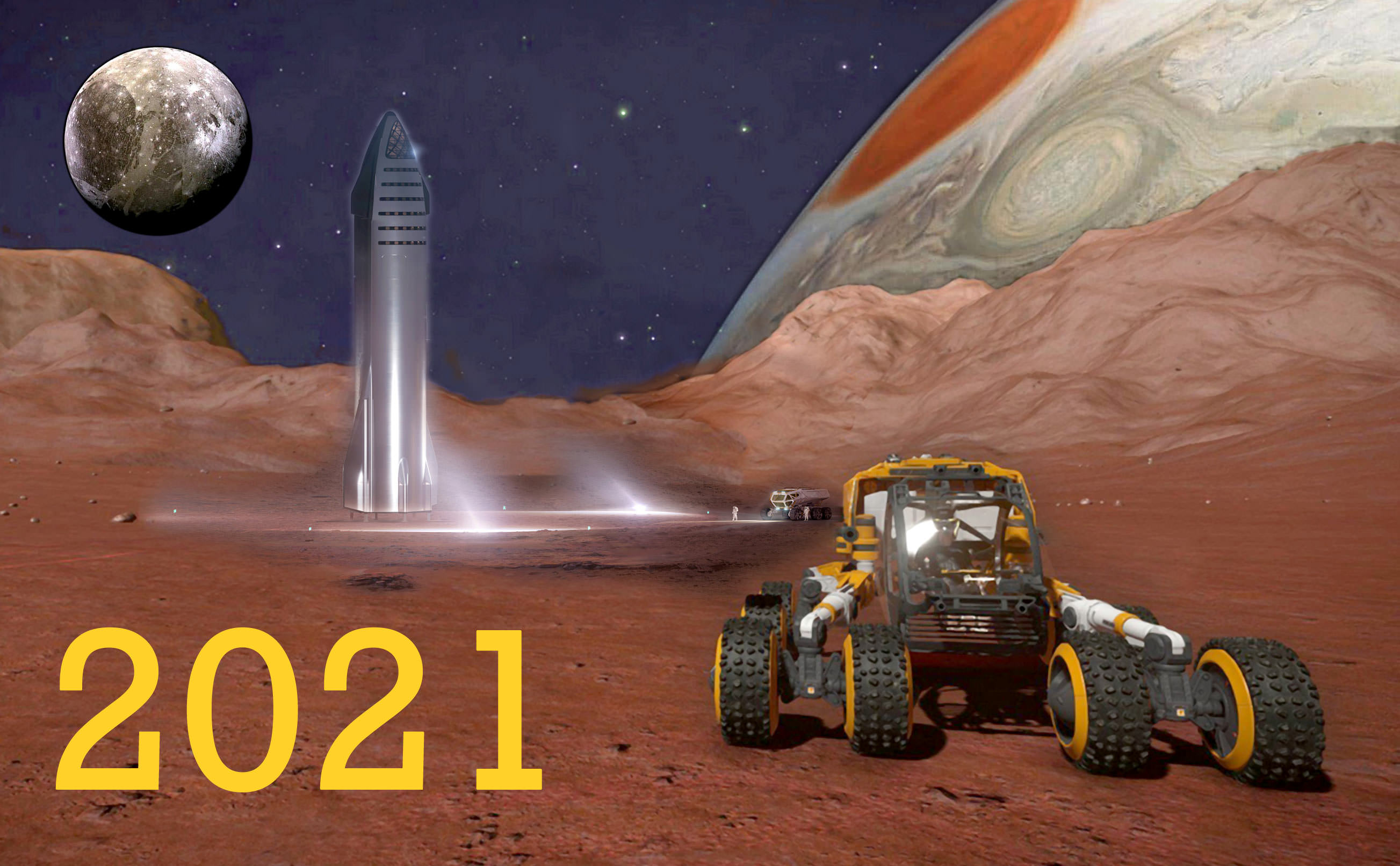 I am confident you will start 2021 with a stronger mind, equipped to face situations better and an ability to adapt and find joy pride and pleasure in simpler things.
Happy New Year !
12/24/2020 : - The Album Bindings we are waiting for will be available by the end of January 2021.
- we are late in the processing of orders, and we receive letters late too : we will grant the 20% discount to all orders where cancellation date is until December 20, 2020.
- We wish you a Merry Christmas !
- We ask you to be extremely cautious because this time of year (Sun hours), travels and household gatherings, all combine for peak virus transmission and worst outcomes. => if you can delay gatherings for April/May, that would be a better plan!
03/18/2020 : Espace Lollini continues to operate during the pandemic, as long as the French postal services are operating, and I can access my workplace. Orders are shipped as usual.

I respect the rules of hygiene and distance to the best of my abilities.

I would like to send you a message of support: Our grandparents have had to face wars, restrictions, evacuations…
Today it's just a question of hygiene, caution, and ... staying at home. It shouldn't be difficult.

Please respect the sanitary regulations and the reinforced hygiene. The action of each person is essential in order to relieve health systems.

Stay calm and patient, this situation can last longer, 60, 90 days who knows?

This is the perfect time to meditate, and open a stamps album.

Perhaps this event will allow human beings to realize the vulnerabilities of an overly liberal globalized system. The systematic abuse of international dependencies for both industry and predatory tourism makes localities, communities, groups of people powerless and incapable of self-sufficiency.

Whether to be prepared for the next pandemics, or to create a new system of civilization compatible with our habitat on Earth: we must radically change.

The root of all these problems lies in each of us. We resist inevitable and mandatory changes. We always want more, and the result of all this is that we put our individual freedom BEFORE the freedom of the world.

Our individual freedoms are ransacking our habitat on Earth.
Our individual freedoms imprison future communities in a shrinking box.

The freedom of one stops or begins that of the other, thus, and in order to allow the future of the world to be free and at peace, we must constrain ourselves.

You are a drop in the ocean, but the ocean requires all the drops to exist. We must act.

Humans are not separated from nature: we are nature.
One human feels the pain of the other, don't you feel that the survival systems offered by your spacecraft, Earth, are being murdered?

Vocabulary:
Covid-19: Co = corona = crown, vi = virus, and d = disease.
SARS-CoV-2 = virus responsible for Covid-19 disease.

SARS = SARS Severe Acute Respiratory Syndrome
(2003 epidemic)

SARS (SARS-CoV) and SARS-CoV-2 are two different viruses from the coronavirus family.
coronaviruses are so named because under a microscope we see a crown.
coronaviruses are viruses of which the common cold is a part, in humans they are generally respiratory diseases.

The coronaviruses are destroyed by water + SOAP in 20 to 30 seconds: the soap tears the lipid crown of the virus.

There is no treatment for coronaviruses, the patient's immune system adapts, and fights the virus. Antibiotics are only useful against bacteria, they are useless against the coronavirus.

Wash your hands, and consider cleaning your smartphones and keyboards.
Stay away from other people.

08/08/2018 : Statement :
OUR MISSION:
Illustrate all space related events with philatelical documents of all kinds, keeping the space facts as accurate as possible. And enabling the collectors to view and choose items that are of interest to them.
Taking into account the vast differences between collection styles and purposes, we are forced to have the widest selection possible, including as much items as we can.
Our goals are not only to sell, but also to document, file and keep records in our database CATAWEB of all existing space related philatelical material, including those out of stock or even rare items we were never able to have available. (we are always looking for pictures and stories for those)
ESA asked us to cover all the space events, emphasize on the ESA related events but also promote fair competition among national and private companies of the world.
Space has no boundary, Space don't care for politics. We don't care either.
Both space conquest and climate are world uni- ting fights.
We are living a turning point in Space achievements : after a long pause following the Moon race, now is beginning a new era of competition in space commercial use, and the race to Mars. Astronauts are selected, exploration flights are restarting !!
Space is also useful in climate change. Accurate Earth observations from satellites are ultimately helping the human species to survive.
You choose if you wish to embark fully : become a subscriber for stamps or covers, or pick the items you like on the order form or place more specific order using the website databases.
07/27/2018 : Stiamo migliorando e evolvendo la lingua italiana sul sito web espacelollini.com. Presto otterrete traduzioni migliori per nomi di paesi, nomi di capitoli, parole chiave e parole tecniche filateliche.
configurazione

We are now improving and evolving Italian language on espacelollini.com website. Soon you will have better translations for country names, chapter names, keywords, and philatelic technical words.
07/09/2018 : EspaceLollini.com is rewritten in 2018. We rethink features of the site.
- The covers search engine enable finding other cosmodroms like Alcantara, New Zealand, Japan, Woomera, ...
- In the covers section you can now find Mission Patches, Pins, signed photos, FDCs, Maximum Cards...
- The cover detail page now shows the event picture.
- You can walk the complete album from the page detail, with previous/next buttons.

I hope you'll enjoy the new features!

07/03/2018 : EspaceLollini.com has been rewritten in 2018. Programming is deeply reworked.
- problems with new visitors and ordering process have been solved.
- information about the cookie for new visitors.
- error message in case JavaScript is disabled on your browser.
- navigating in result pages has been enhanced.
- next/previous in the result list when you are on a detail record page.
- style sheets, fonts, colorful reactive buttons. Overall the site is more readable, and compatible with tablets and smartphones.

The site is in php7+ and running on a modern computer, faster, uses less electricity, memory used, is lower, it can receive more visitors at once without loss of performance.
And that is not all ! Work is in progress to insure a future for the site, growing visitors and precision in the databases. Test it now !

01/11/2018 :
3 years already!
To react to atrocities, to honor the victims and give courage to repel fear;
Here is a sheetlet for Freedom of Expression, secularism and democracy.
The price of 3 € equals a copy of Charlie Hebdo : 10533 MLI 5/8 C

10/04/2017 : 60th Anniversary of the Sputnik 1 launch : Collect this new subject with a subscription.
09/16/2017 : Cassini, Farewell. This needed moment of transition opens thinking to next steps. Ingenuity replaced fuel, space navigation using gravity of moons the same that were just discovered. One mission that unite a good chunk of our planet to make it a success. THIS is how our world must operate.
09/13/2017 : Dropbox.com modified the use of its "Public" folder; from now on download of Revue de l'Espace in pdf is from free.fr.
03/01/2017 : TRAPPIST-1 System Just 39 light years away, this dwarf star has 7 Earth sized planets orbiting around, 3 of witch are located inside it's habitable zone (meaning distance/temperatures should allow liquid water). Those are 3 potential worlds that might allow the existence of life, either native, or imported. The more we search, the more Space uncover amazing things that are more beautiful, better, bigger, more frequent than expected. What an exciting time for science !
01/27/2017 : We have added the keyword I.G.Y. "International Geophysical Year" French: Année géophysique internationale or A.G.I. For all the stamps about the event in 1957-58; and also later stamps featuring the logo. Our polar album title is "Pôles et AGI"
12/26/2016 : Save the planet ! Our efforts are small and late, but anyway : Since 2013 we use LEDs for lighting, in 2014 we started selling photovoltaic energy to utility, in 2015 we used FSC 50% recycled paper, in 2017 (starting now) it is 100% recycled paper with short travel path (origin France and Portugal). We push to convert subrcribers from Letter to eMail and so whe reduced by 70% the printed Space Revue quantity. And yourself, what do you do ?
02/11/2016 :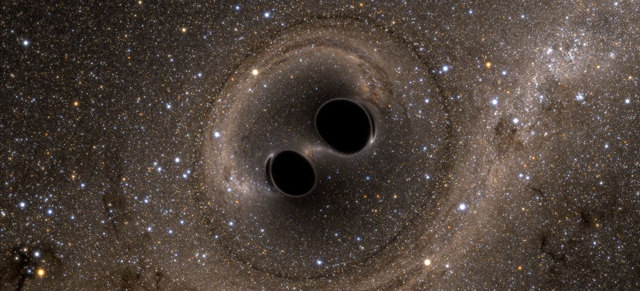 Gravitationnal Waves detected ! On 14 September 2015. The waves were generated as two black holes merged into a single black hole about 1.3 billion light years from Earth.
07/13/2015 : Pluto / Charon, July 11, 2015,


New Horizons is in final approach for closest enconter scheduled July 14. This face of Pluto will not be seen with higher resolution, however the opposite face featuring the dark "whale tail" and the "heart" shaped bright area, will be seen with much greater detail. The picture shown here is a montage I have sharpened and brung Pluto and Charon closer together and added a flat color to Pluto. Multispectral picture will be far more interesting, but for the moment that is the best we can do.
03/06/2015 : The Euro has now a lower value, for US Dollar customers, this is equivalent to a 13% discount on the whole site.
03/01/2015 : Mystery of Ceres : Bright spots on Ceres dwarf planet are probably a white peak in the center of crater. Guess if I'm right, answer in April.
02/07/2015 :
Space Letter : Launched with ARIANE VA 213 inside ATV, on board ISS, back in Dragon this is a folder of 4 covers, one travelled into space. Ref: USA 3014 L USA 3014 L

01/11/2015 :
To react to atrocities, to honor the victims and give courage to repel fear;
Here is a sheetlet for Freedom of Expression, secularism and democracy.
The price of 3 € equals a copy of Charlie Hebdo : 10533 MLI 5/8 C

11/19/2014 :
We have started to add pictures for each event with commemorative covers about space.
The event list. - | - Rosetta covers.

08/06/2014 : Rosetta meets Comet 67P/Churyumov-Gerasimenko. Until this great first, all encouters with asteroids or comets by man made probes were of short duration. This time Rosetta will not only stay with the comet more than a year, but also follow tail formation while closing in with the Sun and there is more! Rosetta will drop Philæ, wich will attempt to touch, or land on the comet surface.
08/05/2014 : Inmarsat & MH370 Study of data and meta-data of Inmarsat-3 F1 satellite, and thanks to ingeniosity of researchers, it was possible to pinpoint the last hours of flight of Malaysian MH370, then to determine probable location of the aircraft wreck. New search will start in August 2014 thanks to this. The flight recorders may help solving mystery of this dramatic event. One Hypothesis seem to fit most of the facts : cabin lost pressurization, all crew loosing consciousness, an unqualifier person trying all buttons in the cockpit, then flight continuing on autopilot until end of fuel.
07/07/2014 : Atom and Physicist
Study of the fabric that makes our Universe. Here is a collection that brings you both the infinite big and the infinite small. By the stamps, you will see horror of the radioactive death and the benefit of a power source that is as of today the only one we have; it is powerful and compact enough to satisfy our needs and its pollution can be under control. You will dicover research that force mathematics to develop, huge instruments, men and machines builders of a better future. Those who do not rejact a science newly born. Those who accept the risks of trial and error. Those who want to understand everything. This is the collection of those who beleive in the best part in us. Those adventurer of matter who stay or will be celebrities... Nuclear peace, Rays used in medecine, Means of propulsion for Earth or space that solve the problems of autonomy speed and safety, the Fusion, the Big-bang, the Particles, are all topics in the album Atom. A misunderstood science, an interesting collection.
01/02/2014 : Happy New Year 2014 !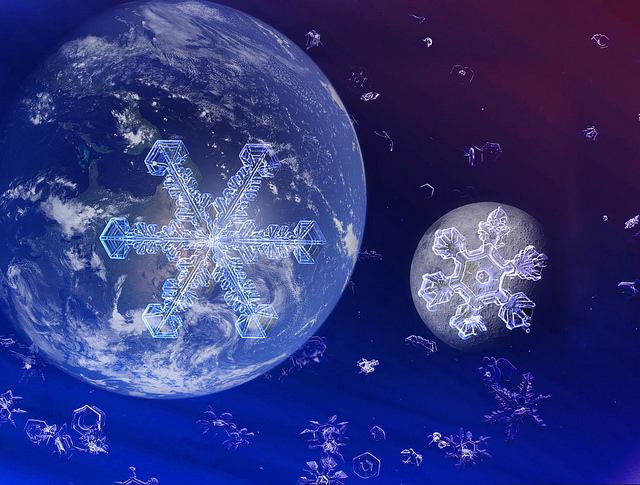 01/01/2014 :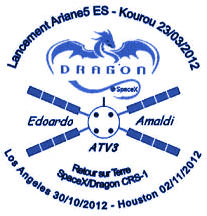 look for "K 1586 L" : The official folder containing 4 covers : one stayed on board ISS, was lanched with ATV 3, and re-entry on board SpaceX Dragon.
Available at a special price until December 31, 2013. (price of K 1586 Z is now euro 60 )

05/24/2013 : New Place : orders are for the moment on a waiting list : we are changing, a new house, new organization, new stock ordering, beautiful projects, thank you in advance for your patience!
eMail, Fax number, and phone number are the same as usual,
Moving main stock during week 22. (May 27 to 31)
03/01/2013 : We are looking for a collection to buy, Mint stamps perforate and imperforate, in the Space theme and/or Concorde airplane. We will prefer one without autograph, cover, or max card. A collection starting from the beginnings is most desirable.
04/02/2012 : An exceptionnal cover : Worls Space Mail : start with Ariane V.200 on board ATV 2 Kepler, 156 days on orbit with ISS, return on board THE LAST SPACE SHUTTLE STS 135 Atlantis. K 1483 A
02/15/2012 : In the commemorative covers, it is now possible to search by year of the postmark.
02/02/2012 : To build your collection in nice albums, you have several solutions : purchase some complete volumes, follow the news thanks to our album upgrades, order a single chapter, or individual pages. I remind you that we present also alternate topics other than space : Astronomers, Atom, Meteorology and climate, Precursors, Stars and Observatories, Polar expeditions, Concorde supersonic, Kourou launches.
01/01/2012 : Season's Greetings !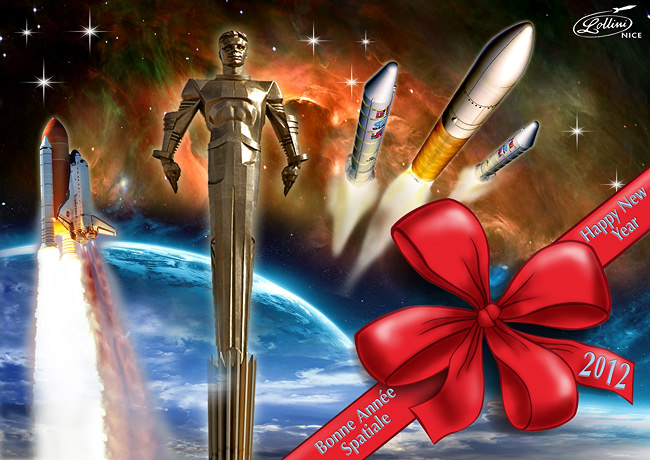 11/30/2011 :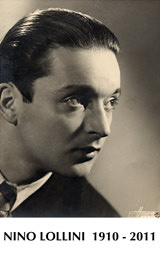 Today my GrandFather Oreste Lollini passed away in the morning first lights aged 101. His intense life began in deep poverty in Italy and by work and talent he succeeded and became an international Tenor much acclaimed for his performances.
"Nino Lollini" - his stage name.
He found happiness in philately and family. He is founder of our postage-stamps business and the pillar of my education.

07/18/2011 : We have purchased two albums of rare items of astrophilately, and variety from stamps found in our catalogues. We will keep you informed as soon as we identify and insert in Cataweb, with mailings. Most of them are available one unique item only.
02/03/2011 : 1961-2011, this year is 100% about 50th anniversary of first man in Space; this will be a huge philatelic event!
11/02/2010 : SPACE album 4-A Re-Edited 2010 !
02/02/2010 : We are grouping all the stamps about the 40th anniversary of APOLLO in the reserved chapter of the Space album. Ref number of all those stamps are beginning with 10460. You can browse for the stamps here.
10/07/2009 : We are grouping all the stamps about the International Year of Astronomy (IYA or AMA in French) in the reserved chapter of the Space album. Ref number of all those stamps are beginning with 10452. You can browse for the stamps here.
02/27/2009 : Google now knows Espacelollini site a lot better than earlier. This means that if you want to search for stamps or covers using words or themes that we did not think about : for example : Monroe, Armstrong, Glenn, ultra violet, x ray, etc. Just type in the Google search field : espacelollini valentina and, at the end of the results, click on the link "display hidden results" you will then see the full list of all records related to the typed words. NEW! you can now go to the site map page and do a Google search inside espacelollini by using the field provided on that page.
01/12/2009 : Price drop on all our deluxe and shiny binding and boxes for albums. The text description now reflect the available items. We have made a huge effort to lower the price for boxes, since we find VERY important that you think about best protection for your collection. More info here.
01/09/2009 : The pages pictures of the ASTRONOMERS album have been added to the database.
12/30/2008 : Here is an exceptionnal offer : The Astronomers Album (101 pages) + 1 binding glossy color of your choice Sky, Deep Blue or Red FREE BINDING, all for 41 € + postage. Choose the Astronomers album, then write in the Note field "special offer" and your choice of color for the binding. Limited supply order here.
09/01/2008 : All the pages of the KOUROU album are scanned and visible. Here is the first link : KOUROU album
04/14/2008 : I has been a long and difficult wait, but there it is : The "Conquête de l'Espace 21st edition" stamps catalogue is NOW AVAILABLE!
04/03/2008 : Only 198 secondary records remains in CATAWEB this means than 13407 stamps or fdcs have one or more pictures (24441 philatelic items pictures on espacelollini.com). And 8403 album pages with picture are also shown. There is also 5659 space event commemorative covers with picture.
02/27/2007 : The search forms here and there, are now working properly. (Cataweb stamps and covers)
02/26/2007 : The Space events list is now active It enable far easier findings in commemorative space covers.
02/13/2007 : We enhanced the space stamps country list, it is now a complete list by default, you can then further refine by clicking on the letters links.
01/23/2006 : UFOs, flying saucers and alien sightings are in the show at Espace Lollini. We are preparing a catalogue with all the stamps on the topic. Subscribe and eMail us to receive the catalogue and pictures CD before April 30, 2006 (euro 12 + postage : France euro 1,22 Europe euro 2 Monde euro 4) . Catalogues and CDs will be made once we know the total number of subscribers.
06/02/2005 : Jules Verne a special keyword has been added for the great French visionnaire writer, you can browse the complete catalogue of stamps and FDC issued since 1957. About "De la Terre à la Lune" - "20.000 lieues sous les Mers" - "Météore" Etc......
01/17/2005 : Even more exiting than collecting space postage stamps is the commemorative covers collection, right into each space event. Now the very new upgrade to the catalogue COSMOS is available! Just printed: The COSMOS 8.2 UPGRADE
12/07/2004 : OMAN, SHARJAH, FUJEIRA ceased to exist in 1979 all postage stamps and fdc issued or printed with a later date are fakes, and many fakes stamps are sold now, beware !
11/15/2004 : Search by typing a Scott, Michel or Yvert catalogue number is now available in the postage stamp section : CATAWEB
10/27/2003 : The Concorde stamp catalogue 8th edition 2004 is available !! Order your copy now and see all the new stamps phonecards and new covers about the most beautiful airplane in the world! clic here
05/19/2003 : The stamps' search can be made right now directly by country.
The countries are sort by alphabetical order. Only the countries whitch have made stamps on Space are listed.
Click here to visit our country list.
02/25/2003 : Espace Lollini has listed for you all the stamps on Columbia Shuttle.
Before this disaster, the shuttle has already been exposed on numerous stamps around the world ...
Come and see all these marvels...
11/05/2002 : Your preferences and the content of your shopping cart are now saved on our server using a cookie, for 3 months after your visit.
09/19/2002 : Espace Lollini take care of the Privacy policy If you want to know more click here.
09/02/2002 : A brand New Page of NEWS! Now you can read our news but also the News of the Space!
08/20/2002 : Our Golden Book already have most of our beautiful Lollini Stamp Design. Just go and see...
02/22/2002 : New! "My covers search" works already! Let's TRY it!
01/07/2002 : New! You can search stamps by Space Revue that you receive each month. If you are used to ordering with the Space Revue, now it is far easier to make a quick order form.
11/14/2001 : Your current stamp search result is now reachable at anytime ("My stamp search" in the navbar) it keeps in memory all the criteria of search and the page number which you last viewed.
It may evolve from visit to visit due to new stamps input everyday, but if for example you search only stamps of Guinea, you will see from visit to visit the stamps we add just with one click.
10/18/2001 : We are hard at work on the website backprocessing :
- now a COOKIE is send to you to enable your browser to keep in mind your preferences like the LANGUAGE, the CURRENCY, your EMAIL, and in a near future more advanced things to avoid you to re-type always the same things.
- the CURRENCIES are updated each month. (but all is still based on the euro)